Installed a Torklift Super Hitch/01 Ford F250
Always wanted to be able to tow behind the camper but could never muster (spend) the required resources. Picked up a small boat that forced the issue.

I purchased Torklift Super Hitch due mostly to my experience with their camper mounts, was impressed with there quality and no skimp on the metal. Second was the inclusion of the side chains and hardware. Third the dual tube is rated for a bit more weight than the other brands I looked at. Overkill is a good thing. My stock rear camper mounts will need replacing no matter what and the super hitch is already drilled for mounts.

The install went pretty easy-did it myself with use of floor jack. Recommend 2 people-it would be just a lot easier. The only difficulty I had was removing stock hitch. Wow, my compressor and impact just wouldn't do it. Took truck to a local shop-(they've bigger guns) and they broke the bolts loose for me. Got home and I still struggled with removing factory bolts. Ford used some extremely strong & perfuse thread lock.

Kind a wished Torklift reused factory bolts and back up plates-I thought about it but would have meant redrilling holes- nah, but their huge bolts. There was a lot of mention of possible spare tire clearance/exhaust issues but on our 01 F250 diesel there were no problems.

After installing hitch I assembled and installed 28" extension. Looks good! But I don't think my camper hangs out that far???
Sure enough, after remeasuring new set up against camper its at least 4" too long. I measured for extension with camper off-rounding up- I came up with lil'over 25" so ordered 28"- yup I needed 24".

Org too long 28"
2 points here-1st suggest measuring with camper on for extension length, strongly suggest
2nd-on my 01 Ford the stock hitch was bout 1" behind bumper where the Torklift ends up flush (=1")

Realized it'd be easy fix after 1st getting bummed thinking I'd pay for reordering. I just removed tube end ring and chain plate, cut tubes to length (5 1/2" so receiver tube is just under camper bumper-yes I loaded up camper to make sure). Re welded on chain plate and end ring. Cool-this also brought tow rates up (22 1/2" vs 28" extension). Looks better too- i cut bottom tube with a slight angle and welded end closed . I reinstalled both straps (after grinding a radius in corners). I also removed all the decals 'cept for rating decal-jeesh, I've yet to remove really nice but kinda visual Torklift emblem plaque. Nothing like advertising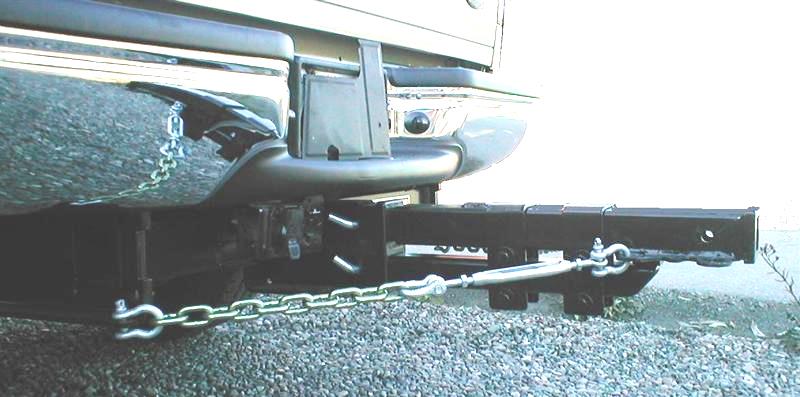 Cut 22 1/2"
After getting receiver install finished I started looking at camper rear mounts. Ford factory receiver hitch the Torklift camper mounts slide into ends of cross tube. On Super hitch (& other after market) Torklift camper mounts bolt on to sides of end plates. I had planned on modifying my org mounts. Unfortunately Torklift doesn't make just new mounts to reuse old camper tubes for folks switching from a factory hitch and already have camper mounts, so I had to order complete rear mounts. Which is why I was going to modify. )
But I got lazy and just ordered, figured I might sell a complete rear mounts set for factory hitch. But it would be easy mod if you have the tools & camper mounts for factory hitch-just measure where ends of assembled outer camper tubes are in relation to truck when in factory hitch before removing factory hitch. Cut old slide inner camper mount tubes to needed angle so outer ends get near those measurements (insure bout 1" clearance under truck body) and weld to plates (cut hole for tube/insert weld) that will bolt to new hitch. Wished Id took the time-hate spending money twice-oh well cant do everything.....(Then again may be that the stock setup vs new the angle are all wrong, but I think it could easily be done.

new r3500 camper mount
Other wise the hitch system is awesome!! My only dissatisfaction with this whole setup, having to reorder complete rear camper mounts-Ok enough of that- just note if your ordering camper mounts for factory hitch & thinking of upgrading to a better receiver hitch later, be aware it'll cost you that much more down the road...
Well went out after Christmas-boat in tow. Nice, its real nice having something you know is secure. The extended hitch takes some getting use to (dips are a pain and mine is short).
The Torklift super hitch is a monster-the included side chains just add to it and a plus for me (though you can add chains as others have to other after market hitches). A bit more than other hitches even considering included side chains but I like it.
Another pic of finished receiver (and what it will tow in the future).
Back to our F250 truck page
Back to Ourelkhorn Camper Modifications page