Intro:

I got sidetracked making side steps for the truck. When I was fitting up new to me Fastguns decided I needed to open up square hole in my T/L arms to ease using. Laid the fastguns in bed & left mounts on the truck till I moved it back over to shop after unloading camper. Pulled over to shop.

I started to go to tailgate to climb in and retrieve fast guns but decided to just step up on T/L mounts....Hey thatís easy...Steps sure would be nice. Hmmm I have extra arms.

Iíve always wanted to add some side steps to truck. Even thought about running boards. Reaching over bed because itís rather tall, canít reach any thing. Seems I'm always climbing into bed. Use to climb up on tire but with dually fenders not really an option now. Using bumper isnít quite as high stepping first onto license/ball insert but then got swing leg over tailgate. I usually open tailgate, just easier, but a heft up.

So I'm repurposing/using up some old factory hitch T/L mount arms I had (replaced when I got the Superhitch). Actually other than showing what I did and how you could utilize your T/L mounts when camper off, as I donít see anyone having an extra set of arms to modify not sure why I'm showing how I did it? Oh well here it is.
The modification:
Using the T/L arms allows using the already in place frame mounts. This solves one issue in adding step, no extra bracketry to create/mount or interference for camper mounts. If you didn't happen to have an extra set of arms (& hopefully you don't) it would be easy to make the arms. I wouldn't try to bend I'd just slice thru 3 walls bending till matched profile, weld up grooved slices. However I did.

I was going to cut off welded on mount tab & ears. Make a horseshoe or D shaped step pad so have a nice round protrusion. But several reasons that didn't seem worthwhile. Thinking because they mount at front edge of bed the offset of ear would be better (and less work). I also thought about making the pad larger but nixed the idea. I have some 4" plastic traction sheet that I could use. Its 4" wide. Trimming ear flush to top of arm, cutting off end hole would be about 4 1/2". Perfect, so that how size evolved. pad 4"x4", just a step to reach in or get into bed.

Old arms have a 1"x 3" piece of bar welded to end of tube. The ears bolted to that. When I originally installed the Torklifts I had run a weld bead on the inside where ears bolt to arm tab. I saw a lot of rotational force on bolts. Point is after cutting off top bolt they are still fixed so if doing this you might tack. Here I've already trimmed top flush to arm. I then cut off end in line with hole. (You'll note these pre-fastgun era mounts have a square hole verse slot on newer mounts).

1st one welded up. Used a piece of 4" thin wall tube. Cut off one side with 2 corners so legs are about 3" long. When welded flush to tube will leave me a nice outside corner for the side and a 4 1/4" top.

After welding u shape the cut off will do other side. The top edges are butt welded flush to tube and ear, I did notch top edge against ear so the side laps outside corner bout 1/8", not sure why, just seemed like I should and made mocking up easier. Grooved top and side of ear and bolt tab joint to run a bead. Beveled all edges and welded. I plan on some serious corner fillets so wanted to insure plenty of welded material left after grinding. The bolt is now functionless, now only fills hole. Was going to plug weld but thought I could use hole later for curb feelers.

2nd one tacked up. Here I pondered adding a rear support under tops. The cut offs from ears would work but I can't see need. Could have "just because" & I was there but didn't. Also note I left the sides long when welding, as it's quite thinner than ears I didn't want to burn back material on corner. When welding I burnt into corner so after trimming and grinding the joint will still be welded and edge will be straight. I went back and ran a pretty good fillet inside under top @ back butt edge to insure support. Also front bottom corner so I can grind as much as I want off.

Some serious grinderage...soon as I trimmed the side edge on second one I realized I should have folded over. Would have added stiffness/support but mostly to give a wider edge when I rise up and whack my head. Oh well, sanded then finished with hand file. Smooth as a baby's bottom.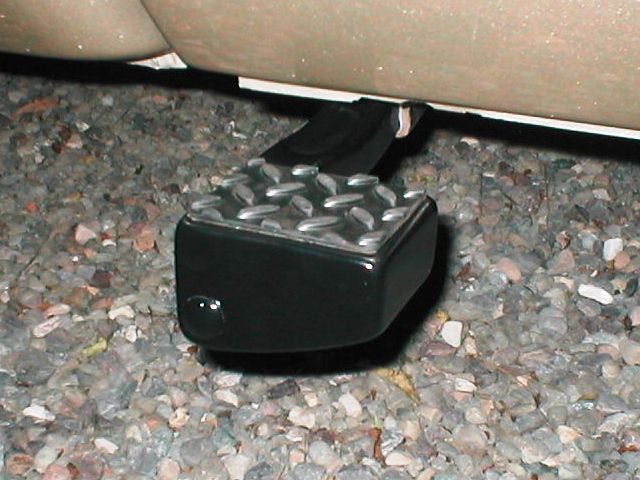 Climb in & out a few times-works, lot easier from passenger side. Maybe plug in a round license plate light w/ yellow bulb.. Now what was I doing...

Back to our F250 truck page

Back to Ourelkhorn Camper Modifications page