Mount shop vise using receiver, on wood workbench.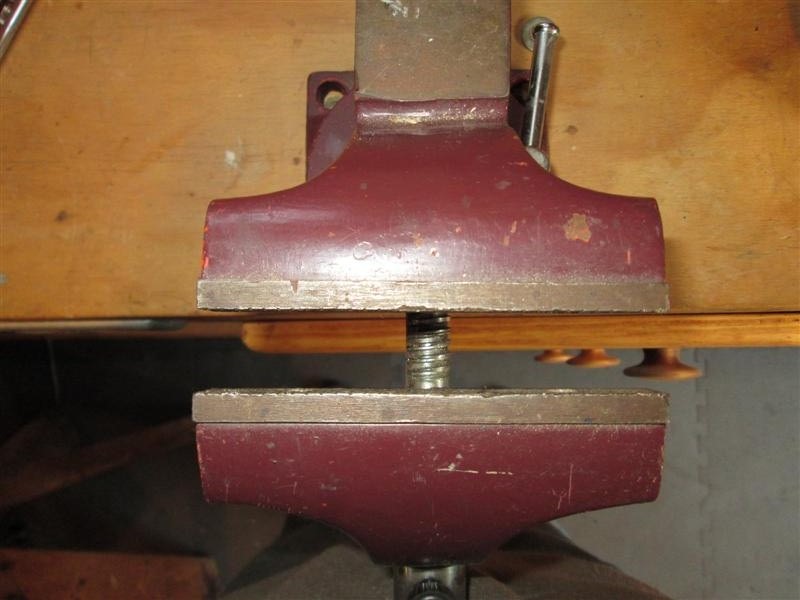 Quandary: Re built existing flush drawers on workbench. New drawers are face mounted. Now small vise that was mounted to edge, over drawers, anything that's clamped and hangs below will hit the new drawer faces. Having realized this would be issue I removed vice until I could remount. Thinking I was simply going to move hadn't given much thought.
However not having the vise in the middle of an otherwise 10' work surface decided I really didn't want to remount, but it does come in handy. Hmmm
So does practicality of having unbroken work surface override convenience of bench mounted vise?-err/. I know its been a problem before working on long material. Just setting at bench its in the way. My main vice is just outside the door for any serious vise needs but this lil guy does get used a lot. If I HAD thought about this maybe I would have come up with a way to mount on new 4x4 leg that was added. Kinda thinking a flip over shelf...Pushed the vise to back of shelf, as I-don't want to do either. Figured if needed I can rebolt or maybe mount to other bench-later.
Cruising the garagejournal.com forum the other day I noted guys are installing vises on receiver mounts. I had seen this before but it didn't have any relevance so it didn't apply. But now with the need to mount/not mount the lil vise- the idea went off like a Christmas tree. Hokey smoke-plug in vise when needed, remove when not. However my elation didn't last long. My work bench is wood. Cant install a horizontal receiver without serious structure. If again, I had allowed when rebuilding the bench. probably. Eyeballing for quite a while just no way to counter leverage of receiver or even place without some extensive 'remodel'. Which I'm pretty sure I would have utilized the 4x4 leg, easily braced-though I cant now-. But I could have allowed & installed receiver tube vertical on leg. Make the vise mount a drop in from top. Ding Ding!
I could cut a hole in top, run receiver up from bottom. Weld tube to piece of plate, offsetting so vise hangs over edge. Drop in vice!
Looking thru scrap to see what I had on hand I found for the receiver, a length of 2" x 1/4 wall tube I'll cut 4 3/16" length from. (Width of 2x4 bench face plus a bit stick up thru the 3/4" plywood top, end up shy 3/16" or recessed from top to allow for fillet weld of vise mount. Had a 7 1/2" length of 3/16"x1 1/2" angle. Perfect. I'll cut in half, weld to 2" tube for mounting ears.
For the vise I found a 4" length of 1 1/2" x 3/16 wall tube (once squared), and a 6 1/4" x 7 1/4" piece of 3/16" plate. Wow, just enough "precut" material. The vise mount plate I'll broach a hole to match 1 1/2" tube. Insert tube half way into plate and fillet weld both sides.
Sounds simple-hardest part laying out location for the hole in plate.
I decided to center the vise over drawers, moving over 8" for more roof setting at bench. Requires adding another stringer under top. Here I've set up to 'see' how this is going to work, place the 2" hole Thru top and layout 1 1/2" hole in plate. I'm using full piece of plate for more bending resistance but Ill set vise flush to one side and front edge.
Lil head scratching but vise jaw needs to end up 2" from face of bench to clear knobs on drawers. Vise base is 1/4" behind jaw face so mount plate edge needs to set approximately 1 3/4" from bench face. 2" receiver tube is to be mounted to back side of 2x4 face so another 1 /2". Plus 1/4" for 2 wall of tube. So edge of plate hole will be at 3 1/2" from edge. Side of hole should be half of vise base, 2 1/4", minus -half of 1 1/2" tube so 1 1/2" from edge of plate.
Hoping I don't screw up only scrap of plate, laid out 1/16" smaller, drilled (4) 1/2" holes.
Cut out with cut off wheel-
Hand filed so tube just fits, chamfer edges for fillet welds. Ground corners and edges round. Also the 2" as its welded tube, had to file the inside bead down. So ready to weld mount and receiver pieces- Decided to cut hole in top and add sub structure 1st.
And the structure I'm adding. The 2 existing top support stringers are 18" apart, Adding stringer between and some blocking either side to resist any twisting.
Cut hole in top, with 2" tube inserted and clamped to bench face added the stringer. For attachment at rear I used piece of 2x4 "Tee'd". Add blocks. Did I mention, since I couldn't have thought of this while wide open before drawers framed in, I'm working Thru a 3" hole? Id do have a 5" hole below so its one arm Thru the 3" and other Thru 5", head tilted trying to see inside with one eye, whaa- waa.
Hole in top, vise plate welded out.
Receiver welded out.
As vise wont cover broached hole welded on cover plate.
Just verifying going to work
Cleaned up & ground out receiver, drilled for mounting
And mounted.
To mount vise I'm tapping the plate, using 5/16" countersunk socket head screws I have. Removed base, doing one hole at a time- drilled divot with 1/2" bit to find center, then tap drill .
Tapped for 5/16-18
Then added slight chamfer to base.
Simple enough. Reassemble vise and bolted to plate. I was going to drill Thru the bench face and both tubes for a long pin, but instead I'm bolting plate Thru top. So cut down longer bolt for full shoulder Thru vise plate and bench top.
And tapped piece of angle. Intent originally a full plate underneath-but this suffices. This will keep vice from moving/wiggling around due to tube slop, when bolt tightened 'clamps' top plate to bench top. Also helps resist any 'tilt' with the vise cantilevered over edge. But this vise doesn't see those kind of loads.
I was going to weld the angle-but as I've already drilled top and angle-ANY warpage at all would require opening up hole in bench and that I don't want to do. So just attaching to top-for now. I may tack in place, would add to structure if I can get stinger in there (and don't set cabinet on fire). I am seeing if I were to remake a full bottom plate welded to receiver, that could be screwed to bottom of 2x4s to brace 2x4s. But now that its done I'm seeing a lot of other ways this could have been done. But with scrap on hand not too shabby. I'll probably replace the lags with bolts.
And the whole point-clearing the new drawers. Did allow moving the vise a bit, was always to close to sitting workstation.
Course I had to paint. It never occurred to me until I mis-inserted vice after painting that it could mount with base rotated to rear (or any of 4 positions). So this is how it probably will live, when I need it pull out of receiver-rotate to clear drawers for long material.
And lastly...

One of the things I looked at early on was adding to bench for mounting vice. I nixed that idea due to strength but I did realize adding a length of 2x2 would serve several purposes. One keep debris out of drawers and door, give me a way to easily clamp stuff, not look so dumb when vise cantilevered over edge (though does not support vice).
And new face board added. I ended a up running a full piece across front. Nice-Its glued, 3" screw every 11" from front, with screws from behind into it between. Still I'm going to add 4 or 5 gusset block underneath to ensure I don't 'twist" it loose
Does give me a Little more surface
Just looks a lot more finished, I like it, like it a lot. So much I'll probably end doing the face of other bench to match, maybe.
The new face trim brought back the fact I need another 110 plug. Was another plug but was removed during original remodel. When soldering kinda of a pain as cord drapes across top and is plugged in right where sitting. Now even more of a hassle because its under trim. Yup adding a plug-actually have been wanting to add a strip...TBD
Anyway small vise mounted, can be cantilevered for over drawer on vertical material use or rotated to be over bench top or completely removed.

Vise

No vise
Back to top of page
Back to shop mods page
Back to Our shops home page