Add Small Ceiling Fan in Shop
In a continuing effort combating heat in shop decided a ceiling fan might help. Though usually set up table top fan kind of a pain. IF I could find a small one that was reversible would also help push heat back down in winter. But mostly to stir the air. Problem is the space to mount one- very small open area above bench, sloped low ceilings. Stumbled on the fan shown. It's 30" tip to tip- I have 32" space, reversible, 3 speed, included is light delete kit, has a light& globe but can easily be removed. I assume light would hang down to use so a plus. Dark colors should look ok. More than I was planning to spend but think it fits, like appearance.
The 7 1/2" hang down with light delete is what sold me. Light arrived-pretty nice. Assembling pretty simple, but I did makes some changes. Holding fan up to ceiling the overall shortness of fan WILL allow use of the light, cool, but I don't like the candelabra bulb holder-so swapping it to standard socket. Second is a little file work on the mounting base though mostly the way mine is getting mounted, de-burring and ensuring pieces don't touch minimizing any vibration sources of noise.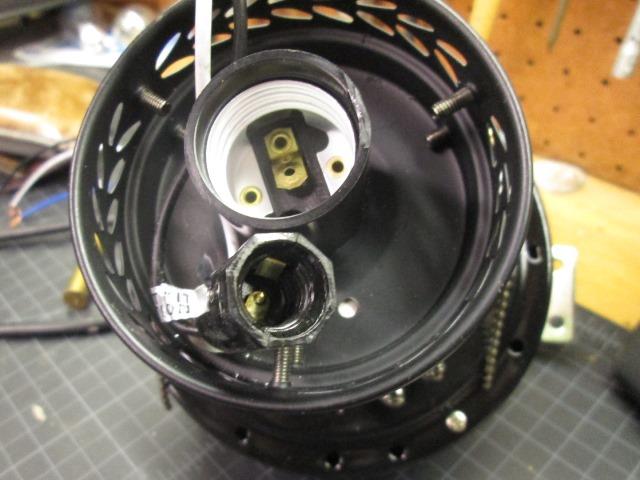 Here just showing light bulb base swapped out. Pretty simple. Now can use any standard base bulb, possibly LED down the road, just not a lot of options with the candelabra base. Light has proven nice in use, didn't think I'd really use but when not working on stuff don't need the florescent shop lights blazing.
Honestly don't remember what this is showing, something I wanted to record? I know reworked the mount a bit. Used fiber washers on all screws, cut isolation rubber pads so no metal to metal contact. As I'll be setting directly under fan I don't want to hear it. Its actually really quite, maybe the effort I spent helped from being transmitted but its whisper quite. I only addressed to alleviate possible noise as some reviews of fan stated issue.
Mounted, this is before I decided I could use light kit. But spinning away..with an 1" to clear.
Light delete kit and hardware/ Not using the switch dingle berries...
Sprung for a remote control switch kit. Was using a cord to plug in fan, needed a switch anyway and wiring in a box to accept anyway so justified.
The receiver is intended to be mounted inside the fan trim housing, I opted to hang on ceiling beam. Again less chance of rattling, gets more air & simpler to wire in.
Soooo much nicer to use than the pull chains, plus a on/off & dimmer for the light.
They also sell same unit with a reverse switch. My thought though, other than less money, is waiting for blade to stop spinning to use manual reverse switch less likely to reverse while in use :)
Wasn't sure about wiring but straight forward. Switch is spliced inline on the hot feed to fan. The fans wiring connects to receiver. Simple.
I mounted a metal receptacle box in cabinet below fan cabinet (cabinet is metal/earth grounded). Cut off the plug from cord I was using from fan, ran its black to new switch. From box added another short cord to plug into fused power strip, ran its black lead to switch. Tied the whites together inside box.
Yet to do is put the cord from switch to fan in some wiremold. The switch is grounded but not fan. Because I'm treating this like a lamp (not hardwired) I used 2 conductor cord I had on hand. But I have some green wire to run separate earth ground from fan to wired earth ground connection on the cabinet. Assumed if I did the wiremold 1st I might 'forget' to add the earth ground.
Odd picture, fan is on, I guess blades in and out of frame while shutter open -looks transparent.
Any way- shop fan. Installed to move air and help cooling and not be playing with the table top fan that always seemed in the way. But over the winter I used more than I thought I would, really helps in warming shop. .
Back to top of page
Back to shop mods. additions
Back to Our shops home page